New Year's greeting 2021/22
"In the respirators that once protected against the plague, we say goodbye to all we love at the end of Europe's longest peace."
New Year's greeting 2020
The more age and the world with their incessant greater and smaller tidal waves bear down on our threesome, the closer we press our noses together!!
New Year's greeting 2019
When Mr Kozlík took the photo of us for Reportér magazine, Barbar wasn't there. When we inserted him later, messages of condolence poured in. The good news: he's alive and well!
New Year's greeting 2018
Celebrating the 100th anniversary of the founding of Czechoslovakia, the 50th of the fateful year of 1968, and 25 years since the founding of the Czech and Slovak Republics is surely an excuse for nostalgia!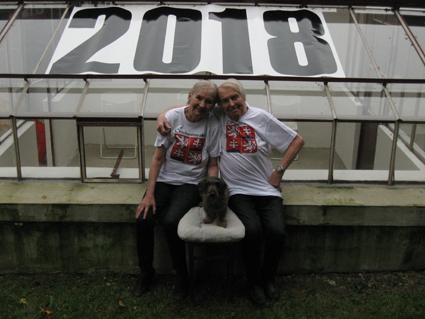 New Year's greeting 2017
Jelena's fall downstairs meant that instead of us two with Barbar the original photo was of the core family and their partners...
New Year's greeting 2016
2016: Pavel Rychetský, President of the Constitutional Court, unscrewed a souvenir of the old days from the walls of the court building and, as a frequent visitor in dissident times, brought it to hallow the house in Sázava.
New Year's greeting 2015
At last we're beginning to make more use of our dear little "pocket mansion" in Sazava on the Sazava, which has been our fixed point for the last fifty-seven years.
New Year's greeting 2014
"We've contented ourselves with Vienna and the 350 square feet of the bachelor flat for long enough, and Barbar reckons it's time to settle for good in our native land."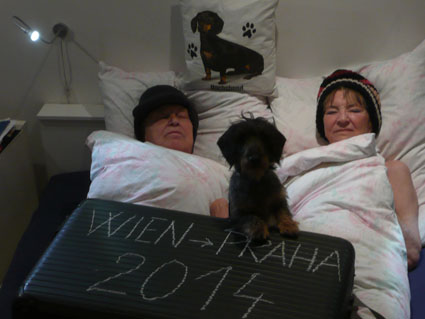 New Year's greeting 2013
»We can't go on performing bigamy with two cities for ever, so until we cast anchor for good in Prague we'll stick to Vienna.«
New Year's greeting 2012
»Prague is a more beautiful Vienna, Vienna a more efficient Prague.
Why sacrifice the one for the other? Years and miles later back with smiles in Vienna.«
New Year's greeting 2011
»In the bath where Richy wagged his tail a new civilization and life has begun. The newcomer is called Barbar, but deserves the title 'The Gentle'.«
New Year's greeting 2010
»The final hour in the apartment at No 1 Kohlmarkt, where Richy managed to die. The empty collar calls for a successor.«
New Year's greeting 2009
»The northward view has been abandoned. After thirty years the two of them move to the nearby bachelor flat, which makes up for it with its southward view.«
New Year's greeting 2008
»It's been decided: Prague will be the main residence, Vienna will stay for tax purposes. The three of them will have to give up one of the views.«
New Year's greeting 2007
»For the honorary doctorate in Almaty the papers proving when the recipient met the dissidents didn't arrive in time. So his robes will be used as a dressing gown.«
New Year's greeting 2006
»All those medals don't come from the Castle but from the prop department of the theatre. There's a 360 degree view in Prague too.«
New Year's greeting 2005
»Life reveals its better sides and is worth celebrating. But decision time is approaching: will the main base be Prague or Vienna?«
New Year's greeting 2004
»The photo is meant to suggest relaxation after activity has ceased. The man pretends to be knitting a jumper, the woman to be sitting around. Richy takes advantage of the situation.«
New Year's greeting 2003
»After five years the curtain has risen on a new domestic scene, to which one goes to work in the public lift from the apartment below.«
New Year's greeting 2002
»The project has been completed, the investors owe their last shirt to the bank, but the removals van has delivered the archive and library from Vienna.«
New Year's greeting 2001
»The construction work that got off to a flying start is halted in traditional style by crises and new building firms going bust. Luckily hope springs eternal!«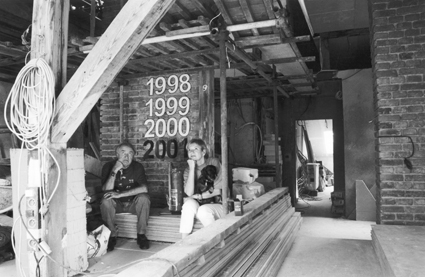 New Year's greeting 2000
»The tenants demonstrate their determination to construct the new living space, if needs be by DIY. Someone has given up waiting for the bribe, the green light is given.«
New Year's greeting 1999
»After a year without the requisite stamps the three of them try to use the studio, at least on a temporary basis. The suspicion arises that someone is waiting for a backhander.«
New Year's greeting 1998
»Room has been found in the attic of the Prague building and building permission granted by the council, with the bonus of twenty years' free use.«
New Year's greeting 1997
»And life is bursting out again at the seams of both apartments. More room is needed for the steadily growing archive.«
New Year's greeting 1996
»And journeys again as in the old days, with the whole world newly opened, but the main route in life is still Vienna to Prague and back.«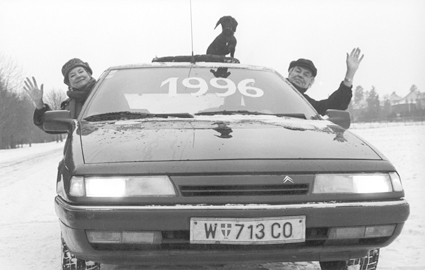 New Year's greeting 1995
»And now there he is, unaware what lucky fate chose his master. The current Richard III adaptation has given this third one the name Richy.«
New Year's greeting 1994
»Neither of them could stand mock-Gothic. Now they live in it — and with what pleasure. Just no sign of a rare wire-haired dachshund.«
New Year's greeting 1993
»The apartment is nice enough, but sad. Another trusty friend has gone to the happy hunting grounds. Abandoned bowls plead mutely for a new one.«
New Year's greeting 1992
»As the returnees had been exiled by the regime the council had to offer them an apartment, even one in a somewhat unsatisfactory condition.«
New Year's greeting 1991
»Still without a Prague apartment, but whenever they like in front of the famous 'postage stamp' of the city where they were both born.«
New Year's greeting 1990
»Thus spake Neruda: "Time rent the curtain and changed the world"! The bridge is to open next year for the citizens of both countries.«
New Year's greeting 1989
»The bridge behind the two of them has had no roadway for forty years, to stop the evil Austrians launching a surprise attack on the nice Czechs. Áda had been lured away by a bitch.«
New Year's greeting 1988
»Bottles collected in Champagne waiting for 20 July to explode in celebration of 60 years of one life.«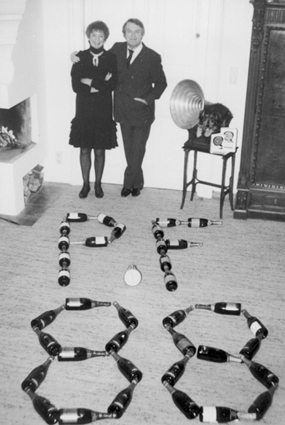 Neujahrswünsche 1987
»The three of them are waiting in their favourite 'Heurige' vineyard with containers for the next wine, unaware that it'll be drunk in a different Europe.«
New Year's greeting 1986
»A second broken leg did not lessen the appetite for sporting activities, but severely restricted the appropriate terrain.«
New Year's greeting 1985
»The year of book launches and first nights all over the world. But a year of disappointment, too, with the behaviour of many Western colleagues.«
New Year's greeting 1984
»Viribus unitis – with combined forces: emigré daughter Kateřina with her son Lukáš, son Ondřej with his wife Eva and son Mikuláš.«
New Year's greeting 1983
»All that was missing was a wire-haired dachshund. Eleven years later, out of the exiled son's gramophone crawled another man of the world – Áda.«
New Year's greeting 1982
»Alterations to the rented flat cost an arm and a leg, but made a comforting place to live. From the roof there's a view right across Vienna.«
New Year's greeting 1981
»Lucky stars quickly provided a nice home in Vienna. However, it will be sparsely furnished for a few years yet.«
New Year's greeting 1980
»Returning home, the couple were forced into exile. They spend their first Christmas in the city where the Austro-Hungarian monarchy exiled the dissident Havlíček.«
New Year's greeting 1979
»Instead of the master the cowards killed the splendid dog. Only an artificial bone in the Vienna Burgtheater is left as a reminder of him…«
New Year's greeting 1978
»The Empire strikes back. The flat opposite Prague Castle confiscated, the three of them move to Sázava, while the state ships the furniture into storage.«
New Year's greeting 1977
»Peaceful coexistence in the mini-tub: budgie Valtrr on Eda`s head. The media publish this card under the headline: Charta signatories enjoy the good life.«
New Year's greeting 1976
»Beneath our own windows and the President's, in a hidden corner where the guards can't see, Eda presents his son Janeček, soon to be killed by a train...«
New Year's greeting 1975
»Offers of work come from abroad. Zed would like to go, while he is trying to work at home without losing self-respect. It`s all the same to Eda.«
New Year's greeting 1974
»The waters of chicanery continue to rise, but Eda wins the title of 'Breeding dog of the Czechoslovak Socialist Republic - Elite Record!'«
New Year's greeting 1973
»With passports long confiscated, the world has shrunk to a single country, which the three of them busily cross in their little Fiat, at last getting to know their homeland.«
New Year's greeting 1972
»Polar night begins for the outcasts. To warm them they've got a new member of the family too, wire-haired dachshund Edison Venor, or Eda to his friends.«